25 Aug

Galicaster SW v1.2 released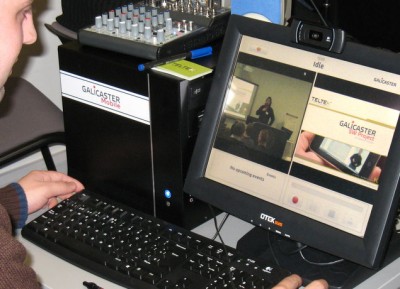 We are happy to announce this new release of the Galicaster software!
The Galicaster software turns an ordinary computer into a Galicaster device, as long as it meets the hardware recommendations provided in the release.  A Galicaster device is a  dual-stream (Video + VGA) recording device, designed to work with a touchscreen interface and including many interesting features. It can work as an  improved  Opencast-Matterhorn Capture Agent.
Quoting one happy Galicaster user:
"I have to say I'm really impressed with what you have done. You seem to have thought of everything. Galicaster gives the user so much feedback in terms of what is happening.  It's not often you use software and laugh out loud when it behaves so nicely.  Like when I saw the "recording starting in HH:MM" after I run a schedule from my test server. It's very easy to get around. I love it."
(Kirk Rutter, Learning Support Officer,  University of the Arts London)  
Main Galicaster v1.2 new features and improvements:
 We've adapted Galicaster to run on Ubuntu 12.04 and take advantage on the upgrades of the operative system. This way we've improved the Blackmagic cards plug-in to support multiple devices and audio recording.
 Galicaster is now available as Debian .deb package for easier installation.
We've included firewire (DV) and NCast digitizers among our officially supported cards. And we've made available audio and video mock sources for testing purposes.
 Input devices configurations in now based on "input profiles". Switching from one configuration to another is now really easy
On the media management side, we've worked on providing new and enhanced export operations. Now, Galicaster is able to export recordings to zip files and/or create side-by-side (SbS) copies of the media recorded. (SbS copies are regular single-stream videos, so you can easily upload them to sites like YouTube, iTunesU, etc…).
In addition we've improved the operation management system, allowing immediate and nocturne triggering of every operation. Every immediate operation is enqueued, thus resolved sequentially.
Galicaster can be used as an automatic in-room recording solution for the classroom, keeping the professor informed and in control, or it can be used as a mobile unit, perfect for recording meetings and conferences.
For those eager to give it a try, please access the Galicaster download section at: